Podcast: Play in new window | Download | Embed
Listen to the interview at the bottom of post.
Looking for a job is never a fun process as it is and you can spend so many hours weeding through the ones that pertain to you as well as the junk out there. Thanks to Sara and her crew at FlexJobs.com they help you weed through jobs that are legit and put the employers right in front of you. We got the chance to catch up with Sara during her busy day and chat about how she came up with the idea of FlexJobs and how she made it work. Sara is such a delight to talk to so enjoy the interview and let her know how much she rocks.
Quick Background on FlexJobs:
FlexJobs is the leading online service for flexible, part-time, telecommuting, and freelance job listings. FlexJobs gives job-seekers a way to find legitimate, hand-screened jobs quickly, easily, and safely. A member of the Better Business Bureau, FlexJobs screens out ads, scams, and other too-good-to-be-true business opportunities in order to deliver users the best of the best flexible schedule and telecommuting job opportunities in an easy to search, ad-free website.
About Sara Sutton Fell: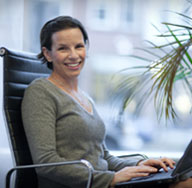 The idea for FlexJobs came about in 2007 by Sara Sutton Fell, an experienced entrepreneur who at the time was pregnant with her first child. She had started looking at flexible work arrangements for herself, and discovered how challenging it was to find something (a) legitimate and (b) in-line with her career.
In her almost 15 years in high-tech (including as co-founder of entry-level job service JobDirect which was sold to Korn|Ferry International), Sara knew that good flextime and telecommuting positions did exist. So instead of giving up, she thought about it and realized that there was an opportunity amidst her frustration. Empowered by her passion for the idea and her previous experience in the job services industry, Sara decided to create what she had been looking for – a clean, professional, well-designed job site dedicated to providing only the best, most legitimate telecommuting, part-time, flextime, and freelance jobs. And of course, she started it from her home office!
Connect with Sara and FlexJobs:
Website
Facebook
Linkedin
Twitter
Subscribe to the BB Show:
We know you're busy people so we have made it easy for you to download the show (audio and video) so you can listen while you run errands, work at the office and even while working out. Also you can have the show delivered right into your email inbox (via RSS) so you can catch us when it's convenient for you. It's like your own BB Show Tivo box….speaking of TV you can catch us on Roku, Connected TV and more too.
Also catch our radio show on Webtalkradio each week too. Where else can you watch the show? Check us out on Biz TV.
Sponsor the Show:
Like the show and what we do? Well then why not partner with us and let us share all about you to our friends….We are not the typical banner ad people or sales reps that bore you to death. We're small business owners who shoot it straight and know what other business owners want to hear and see (yes, most of the time it involves humor). If you want to be a part of our show, videos, photos, jingles, etc. then learn more about how to be a sponsor right here. Or if you're ready to go then contact Leah and say "Let's do this!" leah(at)businessbewareshow.com
Quick Reminder:
Own a restaurant? Want FREE PR?! Learn more about our "wear the shirt" opportunity.